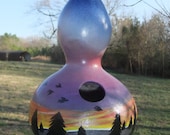 Sunset Gourd Birdhouse
Today's featured artisan is perfect for the upcoming harvest season; Patricia Rey of Belvidere, Tennessee creates ornaments, birdhouses, and more out of natural, homegrown gourds. She harvests, prepares, and decorates the gourds by hand and sells them online at her shop Tishlee
Let's take a look at Patricia's creations and hear more about the hard work she puts into growing, carving, and embellishing her gourds! The following feature is written by Patricia in response to several questions I had about her unique crafts. Thank you for taking the time to let me showcase your work!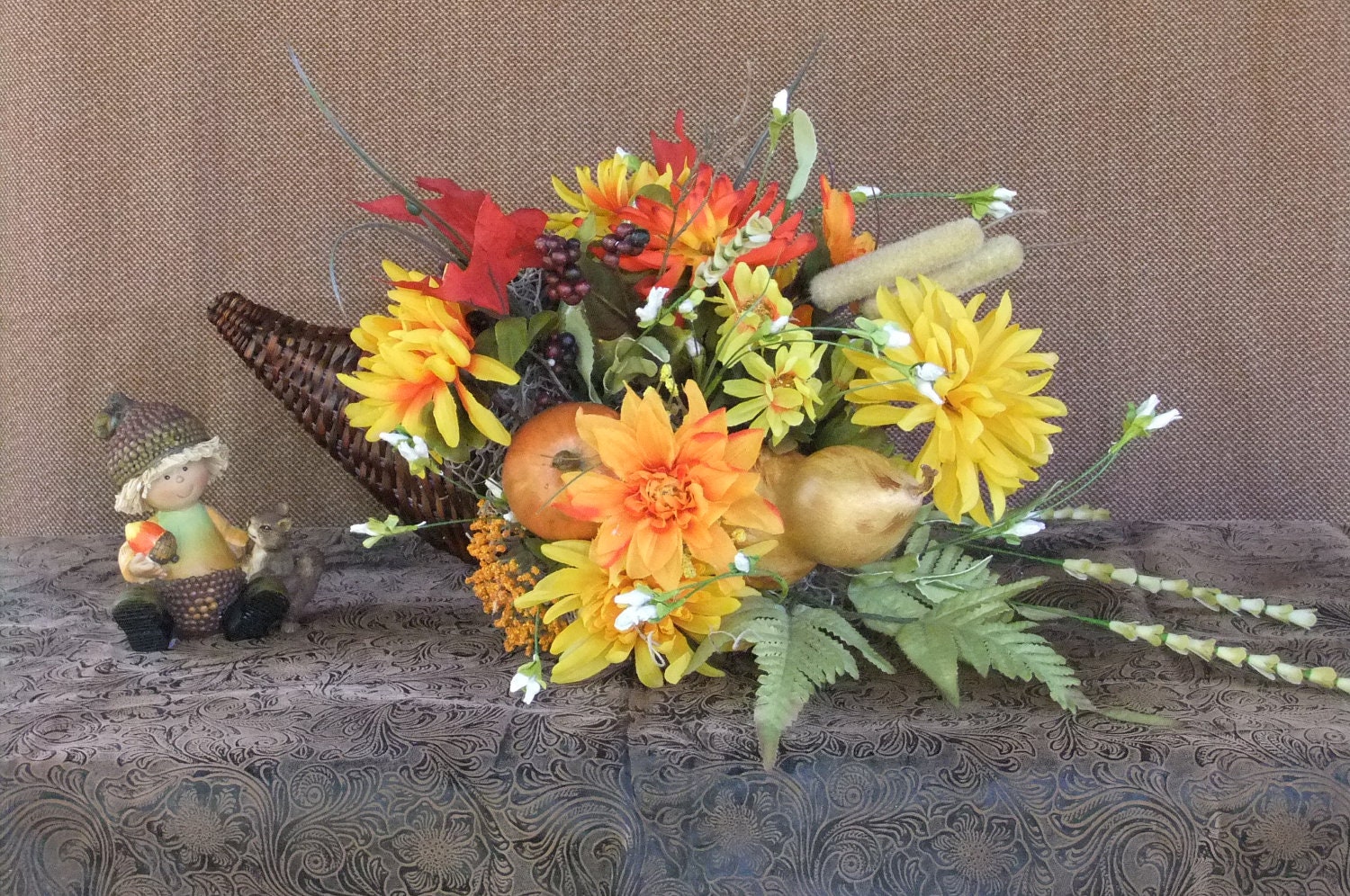 Gourd Centerpiece

I retired nearly three years ago and live in a rural area called Belvidere. One of the great things about living here is that it's a hub to several major cities or towns which lends access to just about anything. My home is nearly centered between Nashville and Chattanooga, Tullahoma and Huntsville, and Winchester and Fayetteville. Many of my crafting supplies come from surrounding towns and cities in homebuilder and large retail stores. I just discovered a quaint little shop though, much to my pleasure, where I can get certain items closer to my home. It's among several other small shops within 'The Shoppes at Cokers' in Tullahoma. There are times when I still can't find what I need, so I order those on the net from specialty catalogs, shops, or stores. Etsy also has some nice items I have my eye on and am considering for use in future projects.
The year I retired from the work force, I grew a variety of gourds, though my husband who encourages me in my endeavor has now taken over that aspect of the craft. My original crop was more prolific than I intended, and sense I don't like to waste it gave me incentive to try my hand at a hobby of crafting. I did my research, and once I finished my first project I was hooked. To me it was almost like a miracle. The process went from a tiny seed, to a beautiful fruit, to an ugly dried and moldy gourd that rattled when shook, to one that was dry after being scrubbed clean of mold and film on the outside, to one cut open, deseeded and sanded, to a completed project that gave me a sense of - wow.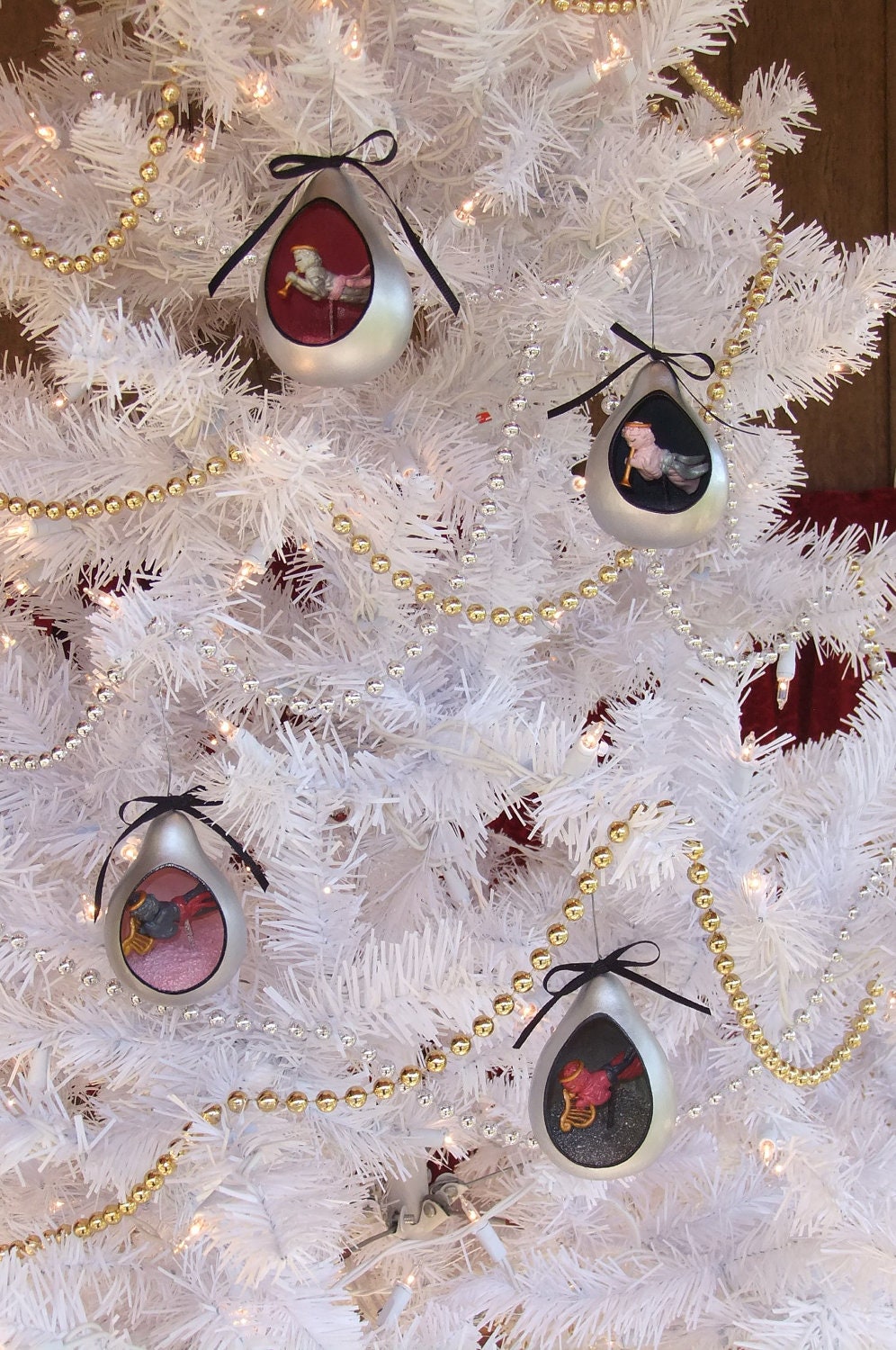 Most of the gourds I work with at the moment are Mexican bottle and pear. I have gone a bit further though in creating my Christmas ornaments. It was impossible for me to find the figurines I needed to complete the vision I had for my ornaments, so I made my own with polymer clay. I was pleased with how my figurines turned out, and once I began using a visor magnifier, I was even more pleased at how detailed I could make them. In fact the magnifiers are handy for using with many of my projects.
I prefer to pick my gourds when the vine dies back and then lay them out where air can circulate around them. And once they are dried out, I gather them up for storage and cleaning.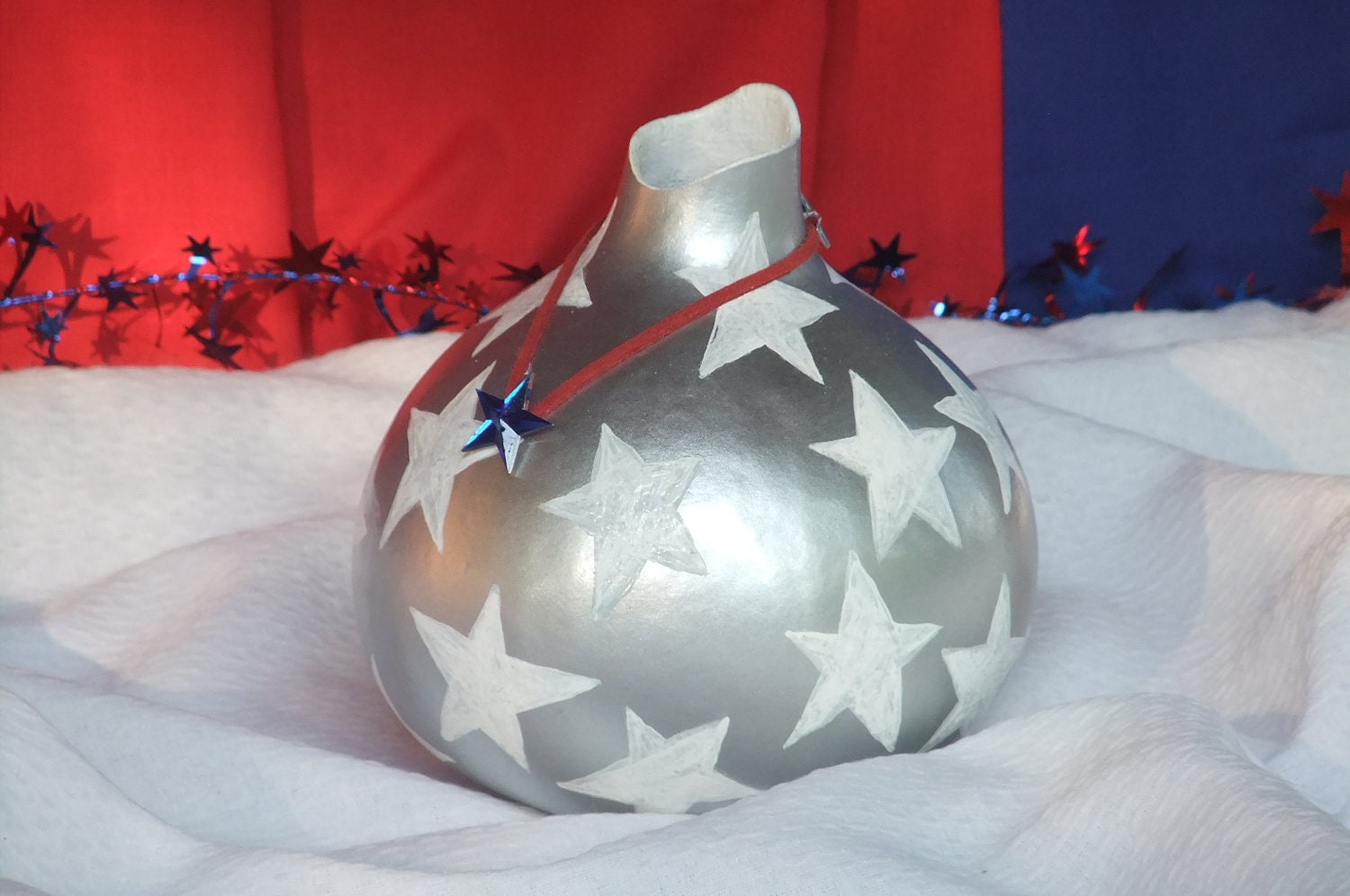 The cleaning process is simple though some elbow grease is required. The mold and thin membrane on the outside of the gourd must be removed. I like to use warm soapy water, a rectangular non-abrasive scrubber with a handle, metal pot scrubber, small crochet hook, tooth brush, and kitchen knife for scraping stubborn film. The crochet hook is especially handy on and around the stem and navel. I'm careful however not to gouge or put noticeable scratches in the gourd's surface. Lastly I run cold water over it while checking for any bits of film I might have missed then set it out to dry. Once dry it's ready for crafting.
My sketch pad comes out next. I love playing around with themes, designs, possible figurines, and colors, and also with new ideas and mediums. When a plan is in place I work on the gourd itself. There's mold inside of it, so when I open it up I always wear a mask or my double-cylinder respirator, depending on the amount of dust, and I wear eye protection. I begin with any one of a Xacto knife, mini jigsaw, or power drill depending on my goal.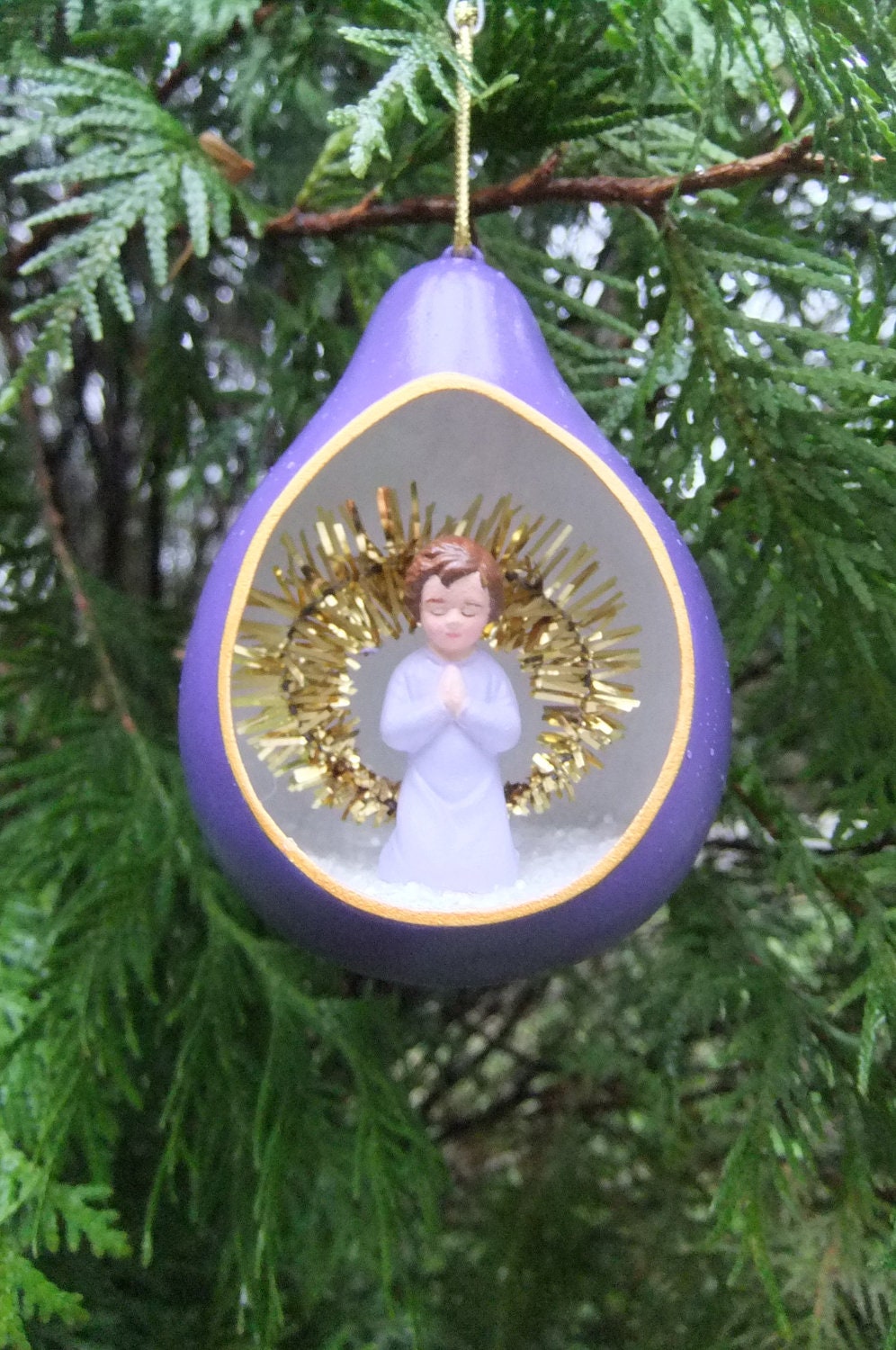 I continue to wear a mask or respirator and eye protection while cleaning the inside of a gourd and also gloves to protect my hands from the rough sandpaper. For gourds with small holes like in birdhouses, I use a long-handled flat-head screw driver, long-handled forceps, and my fingers. For other gourds I use my fingers, forceps, and various scrapers for tough jobs. Once the gourd, other than birdhouse, is cleaned out I sand the inside using medium and fine non-clogging sandpaper till its nice and smooth and the inside film is removed. If the film is stubborn I use an attachment on my rotary (dremel) tool. Sometimes I also notice a few rough places on the outside of the gourd and then sand them with medium and fine sanding blocks. When I'm finished with cleaning and sanding, I wipe it down with a damp cloth to remove any dust. It's then ready for crafting.
The major tools I use for crafting mainly consist of a dremel for carving, a wood-burning tool, and a glue gun. As for my choices for creating color, finishes, and figurines, I prefer high quality acrylic and spray paints and leather dyes, UV protection sprays and an acrylic finisher, and polymer clay.
A few of my items had been sold by my daughter at a grammar school craft fair last year, and I've sold several to acquaintances and through my shop on Etsy, of which is linked to Facebook and Twitter. My goal is to build my inventory and rent a space in a craft show, with my husband's assistance, and attend a workshop or two next spring or fall. For now though I'm preparing for this Holiday season that is nearing rapidly. I hope to list several more items in my shop before that time arrives.
I enjoy the process of creating, and I too enjoy the wow factor that comes at the end of each project. It's finished…and I love it. Yeah. I can hardly wait to set up my prop and take pictures, do the write-up on it and place it in my shop on Etsy where I can share it with the world.