Ms. Zook and Her Funky New Mag
All too often, the words "arts and crafts" conjure up images of sock monkeys and sweaters knit by your grandma, not that there is anything wrong with those types of crafts, but today, we are going to explore the mature and edgy side of fashion and the arts with Liz Zook, the founder of Furies Magazine. Liz lives in Murfreesboro, TN, and also has an online Etsy shop selling original paintings, clothing, and unusual home decor, like her uber cool zombie head lamps. Her latest project, Furies, includes adult content and humor, so it is not for everyone, but then again, neither are sock monkeys! Let's read what Liz has to say about her publication and make sure to like her Facebook page for all the latest updates from Furies.
1) What is Furies Magazine and how do I subscribe?

Furies Magazine offers new art, music, fashion, tattoos, comedy writing and a monthly pin-up. We even do some news snippets and parenting tidbits. We don't have a way for people to subscribe right now. That is something we're working on, though. For now we are only online.
2) Why did you choose the title "Furies" and what is the main theme of the magazine? What is the history of the publication?

I wanted to call it Fury Magazine to sort of give it an edge, but that was already taken. It was my husband's idea to change it from "Fury" to "Furies". I actually like it better. It's a running gag that it's only one letter away from "furries", but Furies are actually Roman goddesses of vengeance - or Erinyes in Greek for the goddesses of retribution. I think that has a pretty good edge to it.
The theme of the magazine is sketchy, but fun. It's colorful and entertaining, but there is some sex humor that a lot of people might not like. It's definitely not for everyone. I would say if you've been searching for tattoos, half-naked girls, great art, a variety of music and raunchy humor all in the same place then the place to go is
FuriesMag.com
.
As for history, we're not even a month old yet! I'm spontaneous with ideas. If I have a good one I jump on the opportunity to get started. Furies Magazine might be the best idea I've ever had. So far, it has been worth the effort that I'm putting in to it.
3) What types of materials are you looking to cover? How does one contact your magazine to see if they have content that would be a good fit for you?

Our goal, as a magazine, is to cover only the best in art, fashion, music, etc. I'm extremely particular when I'm going over content. A lot of the people we feature are undiscovered. As an artist I know how important it is to get your work out there - to be able to tell people that your work has been published.
I encourage people to look over our website before they submit their work. I also tell people that a sense of humor and a good personality is a must, but so is talent. We don't just feature your work, we feature you. If you want to be featured in our magazine you can go here:
http://furiesmag.com/be-featured/
We're currently looking for people to do a punky parenting article. We're also looking for a "news anchor" and someone to cover fashion in other parts of the country that I can't get to right now. That information is here:
http://furiesmag.com/be-a-contributor/
4) What are your plans for the future of the magazine?

When I started Furies I had no idea what I was doing. I didn't want to waste a lot of time on research so I just jumped right in. I'm learning as I go, but I was mentally prepared to do a lot of work and I have very helpful friends. Right now our focus is on putting out great content. If you have good content an audience will come. Once we have built a following we plan on putting together a print magazine.
We don't plan on staying local. A lot of our artist features and musicians are being pulled from all over the US.
(I have to give some credit to Colleen Suave. I started writing for her - B.Real Magazine - in May. She really inspired me to start my own magazine, but I still plan on contributing to B. Real.)
5) Does Furies have any opportunities for local people and businesses to adveritise? How does one advertise with Furies?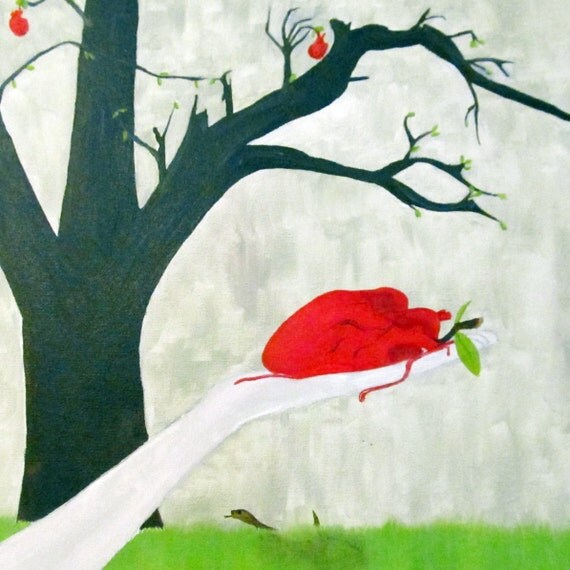 Detail From "Forbidden Fruit" An Original Painting By Liz K Zook (Mature)
We don't have any opportunities for advertisers, yet. That is a goal for us, though. If people are interested they can e-mail me at
FuriesMag@gmail.com
and I can keep them on file for when I do start looking for advertisers. I have to say, though, that I'm going to be very selective with the type of advertisers that I approve.
6) Anything else you want readers to know about Furies? Do you have any links to your favorite articles or the mag Facebook?

We literally just started on June 8th. We're just going to get better and better.
Our comedy writer Sully Sullivan has his debut article on July 2nd.
Our first Featured Artist will be on July 3rd.