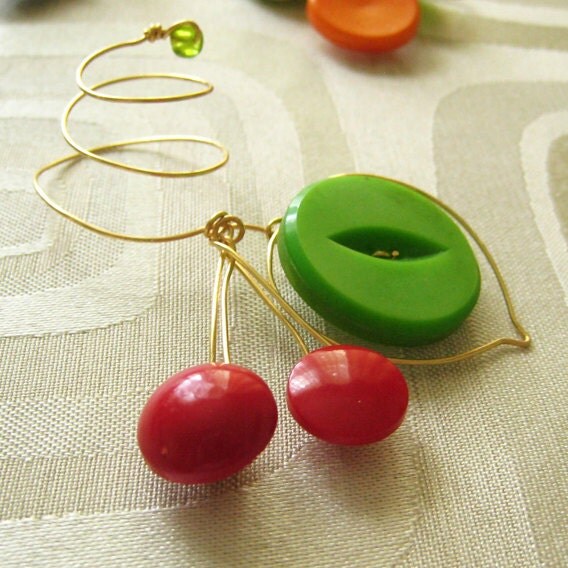 Handmade Charm from TheMonkeyButtons
Becky, owner of TheMonkeyButtons, from Nashville TN, has been kind enough to organize a group of team members who are offering a 15% discount on handmade goods available online at Etsy.com. She makes wineglass charms and kitchen accessories from vintage buttons. Other shops on the list offer other products, such as, candles, jewelry, knit goods, children's hats, and more- all made right here in Middle Tennessee!
So, do your Holiday shopping from home this year, while supporting Middle Tenness artisans. The coupon code is "TEAMBORO". Our team includes members from all over, however, we originated in Murfreesboro, TN. The team mission is to support buying local and share the wonderful treasures of Tennessee. This includes promoting artists, businesses, and farmers.
How does the team coupon work? Simple, you can shop at any of the stores on the list online at Etsy.com and enter the code "TEAMBORO" at the end of the checkout proceedure. Look for a box where you enter a discount code. 15% of your total (before shipping) will then be deducted from your order!
Shopping is easy, too, and you have several options. First, you can identify the stores who are offering the team discount and see if they have an Etsy Mini advertisement on the right sidebar of this blog. Just click and connect to the store you like! You can also go to the Etsy home page and search the handmade category for the keyword "teamboro", if you see an item you like from one of the stores listed in the team coupon, you can proceed to that shop and buy any item from that store and use the discount code.
Happy shopping! Remember, many team members offer custom designed orders and free local pickup. Send a message on Etsy prior to buying to make arrangements. Thank you, Becky, for designing this great printable postcard. She made it in an easy-to-print jpeg format so that participating shops can print out the coupons to include in orders or take to local craft shows. If you are not on the list of participating shops, contact Becky and see her wonderful handmade shop here:
http://www.etsy.com/shop/theMonkeyButtons