Laura Franklin from the Etsy shop Treasures Seven is helping to organize a craft fair in Tullahoma in Oct. 2012, and she is looking for some talented vendors and eager shoppers! Treasures Seven offers a great selection of handmade jewelry, soaps, and supplies. Tullahoma, Tennessee is located south east of the Nashville metro area. This would be a great destination for a fall drive in scenic rural Tennessee. Below, is a letter from Laura with all the details about the craft show and links for more information: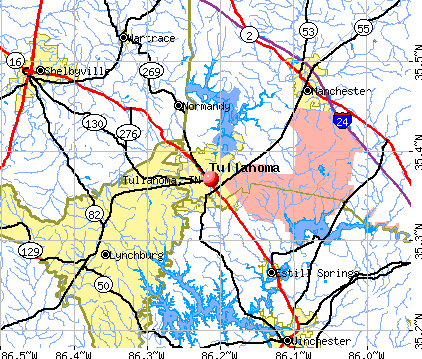 Tullahoma Map
Dear fellow crafter,
I am coordinating a craft fair for St. Paul the Apostle school in Tullahoma, and would like to invite you be one of the crafters at this event. The fair is scheduled for Saturday, October 6, 2012. We will be holding the fair in the school gymnasium. Setup for vendors will begin at 8:00am Saturday morning, and the fair will be open to shop from 9:00am until 4:00pm.
There are a limited number of tables available, so crafters for the fair will be accepted on a first come first serve basis. If you would like to bring a covering for your table, please do so, as some of these tables are not in the best cosmetic shape. Like so many of us, they're sturdy, but have a few scars to show for their years! =)
There will be a $10 reservation fee per table, plus 10% of total sales to be given to the school. Each crafter is responsible for honestly and accurately tallying and paying their 10% of sales at the end of the day. Crafters are welcome to share a table with another crafter or crafters if they would like.
If you are interested in participating, please contact me at Seventreasures7@aol.com with your name, a list of what crafts you will be bringing (does not have to be comprehensive), and the number of tables you will be needing. Checks for the table reservation fee can be made out to St. Paul's school, and sent directly to the school at 306 W Grizzard St., Tullahoma, TN 37388. Please note in the memo field that this is for the craft fair. If you have any questions, please do not hesitate to ask! This will be my first time coordinating a craft fair, and I am depending on my fellow crafters to steer me in the right direction!
If you would like more information about the school, please check out their web site:
www.cafes.net/stpaulcc/
This is the school my son attends, as well as the school I attended as a child. For those of us in this part of the state, it is, in my opinion, the best education to be had—not for its religious roots so much as its strong academic standards. I also believe strongly in my fellow etsy crafters, and would love to help my fellow Tullahomans become more familiar with the great crafters to be found here!
Thank you for your time, and I sincerely hope to be meeting you at the craft fair!
Laura Franklin
Contact her here for more information:
http://www.etsy.com/shop/TreasuresSeven
Scenic Rutledge Falls Near Tullahoma TN