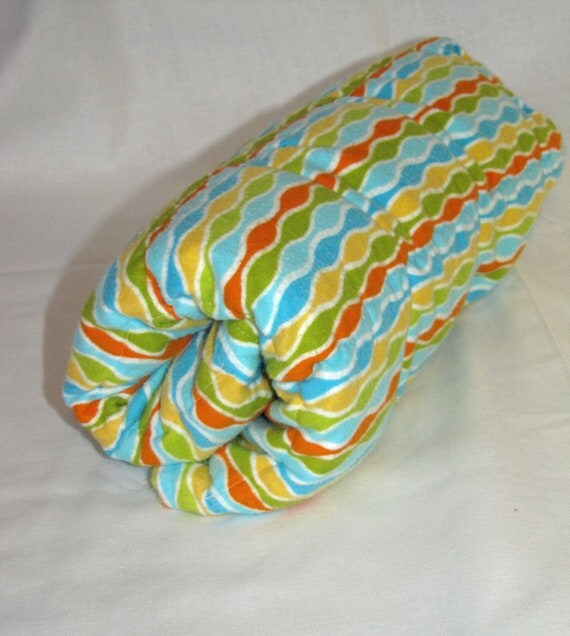 Flannel Weighted Blanket


Sabrina, from Smyrna, Tn, is a crafty mom, with a special daughter to inspire her. She makes weighted flannel blankets, tote bags, and other baby items for her daughter, Little Bit. Today, Sabrina is going to tell us how her daughter helped motivate her to create theraputic blankets, like the one to the left. She sells the blankets and more online at Hugs 'n Love on Etsy:
http://www.etsy.com/shop/HugsLove
1) What is SPD and what difficulties do children with SPD face? Can you tell us a little about your family's personal experience with SPD?
From Wikipedia, the free encyclopedia:
Sensory processing disorder or SPD is a neurological disorder causing difficulties with taking in, processing, and responding to sensory information about the environment and from within the own body (visual, auditory, tactile, olfaction, gustatory, vestibular, and proprioception).
For Little Bit, it causes her to act out when there is too much noise or visual around her. There are days when she can take more in but then other days, when a slight sound is annoying and makes her cranky, for lack of a better word.
I had never heard of SPD until about April of this year. We were having issues at Mother's Day Out and at one of the teacher meetings, one of the teachers mentioned SPD and asked if we would be willing to get her evaluated. We agreed since we knew something was "off" but wasn't sure what. We got her evaluated and the OT did say she had SPD. Her case is slight but it does still cause issues, especially now that she is in preschool. We are going to have to move her to a different school because the current one does not know how to handle Ashlee.
2) Why is sensory therapy important and how did this lead you to start making your weighted blankets? How does your child interact with her blanket?
Sensory therapy is very important because it helps the child calm down or stay calm, in our case. We have learned her triggers and how to minimize the exposure to them. One of the suggestions of her OT was a weighted blanket for times when she was resting to help keep her calm and relaxed. Little Bit likes pressure and a weighted blankets gives her just that. Normally we just use it at night time to help wind her down and keep her relaxed during sleep. I also use it in addition to a bean bag chair that kinda surrounds her. That gives her a "hug" and the blanket gives her the pressure. She likes to sit like that to eat and watch TV.
3) What plans do you have for making blankets in the future (size, design, fabrics) and do you take custom orders?
I hope to make more blankets soon. Right now I am keeping them smaller, mainly about 30"x20" for a nice lap blanket for an adult or for a small child. I normally use designer 100% cotton for both sides but have used fleece and minky, though minky is more expensive and I try to keep the cost down. I also put a layer of muslin on the inside as a protection layer between the pellets. I use Polypropylene pellets, which are washable. I wash LIttle Bit's blanket weekly.
I do take custom orders for different size, weight, and fabric. The weight recommendation is 10% of the body weight plus 1lb, however, I always say to ask your doctor or OT first for a correct weight and size. I do ask for payment up front due to having to customize the fabric to your needs but I do ship out within 2 weeks unless we have discussed a different time frame. I ship via USPS Priority Mail, flat rate medium box. I don't ship internationally due to the high cost of shipping.
4) Do you make or do anything else for personal use to help your son with SPD (sensory tables, music therapy, etc).
I have made a necklace and bracelet made out of tubing and ribbon. She likes to chew on the tube. Part of her SPD is that she likes to have something in her mouth. Normally I can tell when she at her max when she starts biting her arm so I get her some chips, pretezels are her favorite. But when I can't get chips, I give her the necklace or bracelet until I can get her something else. Other things we do is let her play in the bathtub with shaving cream, write on the glass door with window markers (she loves markers above pencils, colors, etc). She also likes classical music as music with words can be too much for her. She does like to watch TV and will sit for an hour watching a movie. We keep it on Disney Junior. To help with her writing, which she does not like to do, she plays a game on my tablet which is touchscreen so she can just use her fingers. Another calming thing is swinging, she loves to swing. Motion is fun to her so she is always on the move, running, jumping or twirling. We have a small trampoline for her to jump on. We are still learning daily what she needs as it does
change daily.
Get your own custom made sensory blanket from Sabrina here, they are 30 dollars for ready to ship or 40 dollars for a totally custom designed blanket with your choice of fabric:
http://www.etsy.com/listing/106977124/custom-order-weighted-sensory-blanket