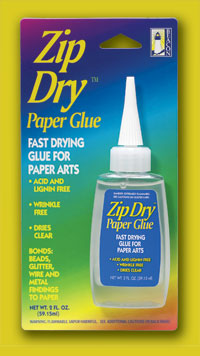 Crafters are always on the lookout for the right glue to do the job and I recently heard of a new product, Zip Dry Paper Glue. It was voted the number one best new crafting product by a major paper arts magazine last year. In fact, here are some of the claims about the products from the Dreamtime Creations website, where it can also be purchased for 5.95:
http://www.dreamtimecreations.com/content/product/large/cgzip.jpg
ZIP DRY PAPER GLUE
SCRAPBOOKING NEVER HAD IT THIS GOOD!
• Fast drying for fast results on almost all paper types.
• Never wrinkles paper, ever! Dries crystal clear.
• Mistake-proof; easily removable when wet without leaving any residue.
• Bonds metal stampings, beads, glitter, wire, and other embellishments to paper.
• Acid and lignin-free: archival quality.
• Special precision applicator tip for accuracy.
Needless to say, I had to try this product. So, how did it live up to the hype? How would I describe this glue in one word? Outstanding!
The glue was fast-drying, crystal clear, left no marks or wrinkles on my cards, and bonded fabric, ribbons, buttons, and paper. I highly recommend this glue and will be using no other glue on my paper projects, unless they come out with a version that has a better applicator. The one problem I had with this adhesive, was that it quickly dried out and clogged the applicator tip, requiring frequent cleaning during projects and the necessity to unclog the nozzle tip with a needle or other thin object. Also, it is not recommended to store the glue with the applicator tip on.
Otherwise, this glue was a fantastic buy and I will purchase it again. I found it for sale locally at Hobby Lobby in Murfreesboro, TN. Be aware that it is in the scrapbook section and not with the regular adhesives. It was around 6.00 dollars as well.