Anna, Young Business Owner
Arts and crafts are a vital component of any child's education. We all remember learning to color, cut and paste, and playing with paint. The reason we encourage children to learn through art is because it makes learning about science, nature, and everything else more fun; it gets kids excited about learning. Remember learning how to splatter paint in kindergarten with leaves or a teacher showing you how to mix colors? That is bringing science and nature into the classroom where kids can explore the subjects in a hands-on fashion.
Most children also enjoy arts and crafts as a hobby or play activity, but let's not forget that this playtime is an excellent chance to supplement what kids are learning in the classroom. We need the future generation to be thinkers and creators, people who can generate original ideas and follow through with a project. Whether it is sketching a house or putting beads on a string, the arts encourage children to learn basic academic concepts like counting and stimulates independent, creative thought.
Today, we will hear from Anna, a 9 year old that is operating her own etsy store. Etsy is an online marketplace for handmade goods. Anna makes all of the items for sale in her store and oversees the packaging and shipping, and, with a little help from Mom, she manages the money. Anna gets to donate some of the profits and spend a little of her earning for things she likes.
Anna's Cat in Tree Art Print
To adults, the educational value and lessons to be learned are obvious, money management, marketing, math, computer literacy, and more; however, to Anna, managing her shop is FUN! One of the most important things to help with a successful education is cultivating a passion in kids for learning, to embed the desire to explore and investigate. Naturally, this produces more inquisitive learners and future leaders with creative problem solving skills. Starting a business as a child, is a great self-esteem booster. Knowing all this, it is easy to see the value in young entrepreneurship, but to the kids, the important parts are the fun of creating and managing and earning money to spend and save.
Without further ado, let's hear what Anna has to say about owning and operation her Etsy shop. After the interview, will be commentary by her mother pertaining to internet safety and parental supervision of business activities. Please see Anna's Etsy shop here:
http://www.etsy.com/shop/AnnaMals09
1) Please tell us a little bit about yourself, your art, and how you decided to make an Etsy shop?
I am nearly 10. I am a child black belt in Tae Kwon Do. I am homeschooled. I love animals and bugs. I am a Christian.
First my mom had one and then I just really wanted an Etsy shop. Then over the summer we started making it. I just really love drawing. I thought maybe I could sell some cards and stuff. Because, I really love drawing. I love drawing animals. I love taking pictures. It is really fun to have a shop on Etsy. You get to know a lot of nice people.
2) What skills are you learning from running your own business that help you in school (things like math, writing, computer skills, and reading)?
I am learning math, how to run a business, and you learn a bunch more things. I learn about cost, profit, and shipping. Having an Etsy shop makes learning fun.
3) Do you think you might be interested in a career in art or having your own business when you are older?
I might do it for fun but, I want to be a veterinarian. The business I would like to have would be a petting zoo on my farm and horse rides, and a bunch more things on my farm.
4) Do you have any goals that you are saving your money for?
I am saving money for the tigers, and I am saving money because I don't like to spend a lot. But, if I had a million dollars I would buy an Ipad, and I would make a sanctuary for bugs. I am also saving for a car and maybe for college.
5) I see you donate 50 cents from each sale to charity. What charities are important to you?
My first favorite one is the World Wildlife Fund and my second one is World Vision.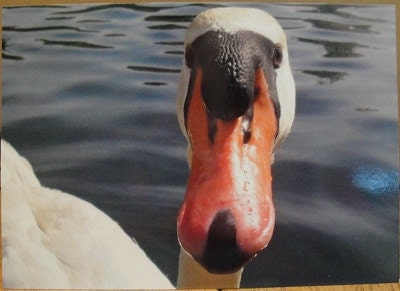 Handmade Swan Greeting Card
Thanks, Anna, for answering those questions! It certainly looks like you are one ambitious young lady with a big heart. I think you are a great role model for other young people. The future needs more people like Anna.
Now, parents these day are scared and concerned about internet safety, child predators, and online scammers, how does a guardian protect a child online if he or she decides to start a business? I asked Anna's mother to contribute to the interview with some advice for the adults.
1) What advice can you give to other parents whose children are interested in starting an online business about internet safety and protection?
For me, safety is the number one issue. I am very careful with what Anna can and can't do while on the internet. Anna has to get permission to get on the internet and we monitor her activity very carefully. She is not allowed to go onto sites that are social sites. Such as, facebook, or gaming sites where people can communicate with one another. That includes
Etsy. All communications to and from Anna go through me
.
She is even limited to only certain shops that she can look through. Some things on Etsy aren't appropriate for children. I believe it is extremely important to teach Anna about why we are so careful with internet usage. Keeping Miss Anna safe is my job and I take it very seriously. Also, it helps to have a husband who knows about computers. He is able to do things to make computer usage by Anna, as safe as possible.
Now, for an Etsy shop for kids. Wonderful teaching tool! It has really helped Anna develop her creative side. Also, she is learning about cost, profit, book keeping, selling, advertising, the lessons go on and on. It also gives her responsibility. When she has an order, it is up to her to get it ready to go. She has truly enjoyed having her very own Etsy shop. My advice would be to find what your child really loves doing and turn it into a sellable product. The big thing for me is, I want to jump in and do things for Anna but, I restrain myself. Anna can really do this without too much of my creative interference. It is amazing what children can come up with, even without us parents telling them what to do. Lol It is hard to step back sometimes.
I do still help Anna with many aspects of her shop, but her products are hers. I may make something from time to time if she is wanting to learn something new. My goal is to get her to where this shop will be totally run by her. Of course, chatting and convos, still will be monitored by Mom. If someone has a child that loves crafts, and wants to try selling, go for it! Not much too loose in trying. I did make sure Anna wouldn't get upset if she didn't get sales. I told her, sometimes sales just don't come. It doesn't mean you are not a good artist. Once I was sure she understood this, we opened her Etsy shop. It has been a lot of fun.
Do you have any tips on how to help manage the money and protect your child from scams or bad people?
Anna has a binder just for her Etsy shop. It contains different worksheets to keep track of what she has sold, cost to make that item, shipping, discounts, etc. We keep one worksheet that keeps a running total of her actual profits. Deductions are taken from Anna's Etsy purchases as well. Basically like keeping a bank ledger. At a certain point, we will sort her earnings into spending, saving, charity, etc. Then off to the bank we will go.
Anna also keeps a charity worksheet that shows her sales as well as mine for the donations to save the tigers. Fifty cents from everything she sells and I sell goes toward saving the tigers. Once we reach $50 we will send the money to the World Wildlife Fund. She already reached her goal for saving the polar bears.
As far as protecting Anna from the stinkers out there, I monitor everything. I see her messages before she does. I do much of the responding as well. I want people to know that Mom is very involved and will not allow any funny business. So far so good. We try to keep things simple. This helps as well. We have met some incredibly wonderful people on Etsy. Many of whom have encouraged Anna greatly. But, like I said, I always read the convos before Anna.
...Mom, you deserve a pat on the back! Kudos to you for encouraging your child and being an active parent. That is all excellent advice.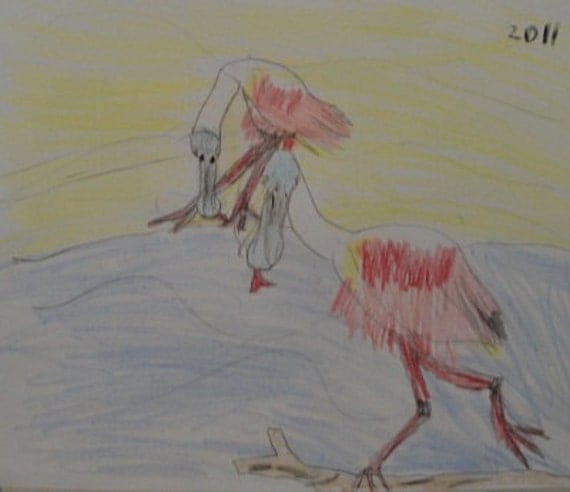 Rossett Spoonbill Drawing by Anna