IbdBoutique is a bakery for pets and offers a variety of made-from-scratch, fresh dog treats, prepared by owner, Robin, from Murfreesboro. She even tastes all her products! "I wouldn't give my dogs anything I wouldn't eat myself," is one of her mottos, and I am sure your dog will agree with her. See her shop here: http://www.etsy.com/shop/lbdboutique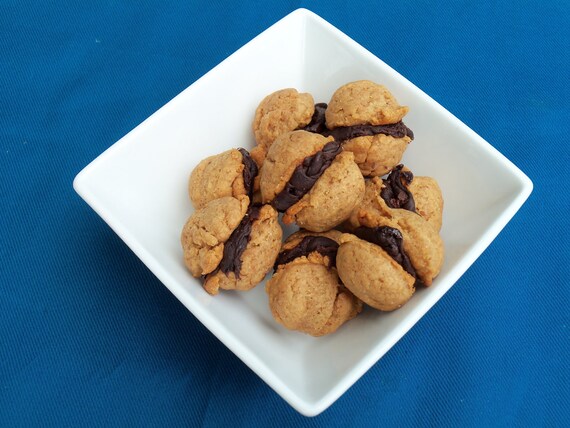 Peanut Butter and Carob Dog Cookies
Robin has a great shop with unique products and reasonable prices. Here is what she has to say in her profile about her shop"
"It's official, I am a "dog person" - you know, the kind of people that think of their dogs as their kids and treat them as such? That's me! I'm the proud mom of Wyatt - a dachshund/chihuahua mix and Dyson - a border collie mix. They are both beautiful, crazy, loveable rescue dogs, and yep, both black dogs! Hence the name for the boutique.

The seed was planted for the Little Black Dog Boutique a couple of years ago when I visited a dog store that sold dog cookies so cute I would have eaten them myself! Combine that with my love for cooking, sewing, crafting and entertaining, and the idea for the boutique was born!'
This is a picture of one of the little black dogs. What lucky dogs they must be to live with a momma who owns and operates a doggy bakery! Although the treats are delicious, they are made with ingredients that you can feel good about giving your dog. Spoil 'em rotten, the healthy way!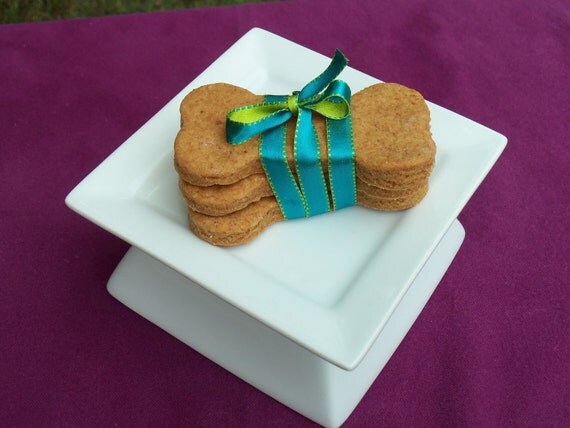 Robin was also genereous enough to answer a few questions about her business and products. Thanks for your time!
1) Please tell us a little bit about yourself and your dogs?
Hi! My name is Robin. I'm 41, been married for almost 2 years to my awesome husband, Berry (yep, there's hope for even us old chicks!) and have two sweet yet crazy dogs - Wyatt and Dyson. Most recently I was the manager at The White Room Too, in Murfreesboro, TN, which is a bridal and prom salon. I REALLY felt the call to start my own business, so I left the bridal world and have been striving toward that goal since then!
2) What treat do you make that is each dog's favorite?
Um, ALL of them! They go crazy whenever I am in the kitchen baking. But I must say that the pumpkin peanut butter bites are a huge hit with them - they scramble for crumbs that fall on the floor!

3) What ingredients do you use (or not use) in your dog treats that make them different than commercial treats?
NO PRESERVATIVES!!! I really try to make everything organic, if possible. If not, only all natural human grade ingredients. Even the coloring for the frosting I'm using for the autumn treats (coming soon) are organic and plant based. No chemicals, no dyes, no corn, no salt, no sugar. My dogs eat healthier than I do!
4) How long do the dog treats stay good for?
Since they don't contain preservatives, they will last around two weeks in an airtight container if not refrigerated. If you choose to refrigerate them, they will last several weeks longer. They can also be frozen.
5) Do you have any items for cats?
Not yet. I pretty much focus on my dogs. But if I get a demand for cat treats, I will look into it. :)

6) I see you do custom work, can you tell us about any of your special projects?
Nancy K came up with a great idea for a pumpkin pie cookie, so that is in the works (thanks for the idea Nancy!). Also will be rolling out a big holiday gingerbread treat for the pups in a few weeks.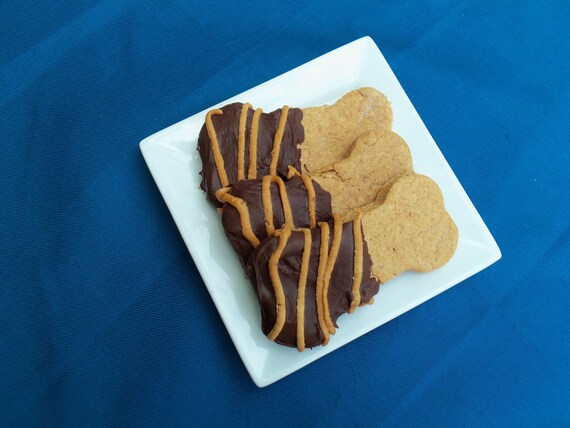 Gourmet Dog Biscuits