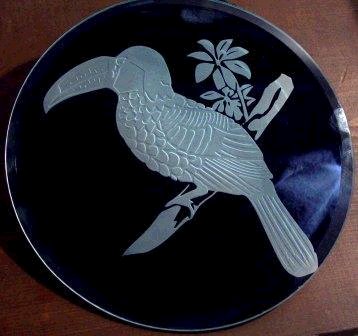 Etched Glass Plate by Eric Roberts
I've always been fascinated by the art of etching glass and wanted to try it, so I was delighted to be contacted by Eric Roberts, an artisan glass crafter about reviewing his new "Secrets of Glass Etching" ebook and website. Eager to find out the details and try out the techniques on some of my candles, I devoured the book and priced out the supplies. Much to my surprise, the basic materials for some of the starter techniques are very inexpensive! You can start glass etching today for an initial cost of about 50 dollars. The e-book cost starts at 19.00 and then about 30.00 for shipping and materials.
Let's get started by reviewing the ebook and what is information you will receive. Of course, you can always go to the library or buy a traditional paper book, but the ebook format is very convenient and easy to access. I like that it has click able links for supplies and videos. Traditional books don't provide the same level of information that can be had in video format. After the book review, I will provide links to Eric's ebook and main website, where you can sign up for free patterns, watch videos, buy the book, and like him on Facebook.
The author and artisan, Eric, says this about how he got started, "

I was always interested in arts and crafts since I was a little kid. Personalizing items was interesting to me, and I was always interested in starting a business that dealt with something creative. Basically, I was looking for a business idea and found an advertisement in an entrepreneur magazine which was selling equipment. Immediately I became attached to the idea because there is a ton of glass objects that can be personalized."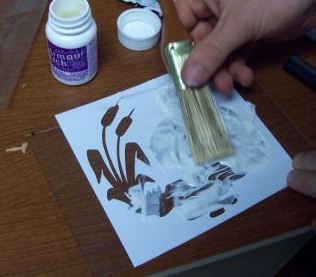 Eric Etches Glass With Etching Cream
So, what is all included in the book?
1) Basic descriptions and tutorial for several glass etching techniques. There are low cost and higher cost, but more professional looking options.
2) Step-by-step pictures of how to use the materials to etch glass.
3) Many examples of different objects to etch and projects you can make. There is everything from personalized mugs to candles with monogrammed initials.
4) Patterns and stencils, including actual pattern downloads or how to make your own to suit the different techniques.
5) Links to buy the basic supplies at the lowest cost.
6) An easy tip to enhance your projects to make your artwork more defined. with a click able link on where to buy the product.
There are also options to buy a membership where you can receive one-on-one technical support from Eric and get bonus videos emailed to you.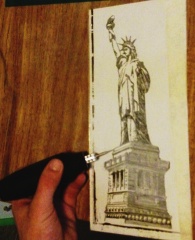 Eric Engraves with a Dremel Tool
Overall, I really enjoyed the simplicity of the book and the easy to understand pictures and lists of materials. The variety of projects was impressive and got me thinking of many things I could find around the house to practice on. Click able links for buying supplies is priceless. The ebook is straightforward and not confusing. This would be a great guide for anyone who wants the basics in a fuss free format with little technical jargon. It is written so that even the non-crafter can understand the beginner techniques. For the same price as a craft book from Amazon, this ebook is a great starting value.
Here are a few things I hope are included in revised editions:
-Tips and tricks for using the Dremel tool and where to buy glass engraving bits, along with a beginner guide to what is a Dremel and how does it work.
-Where can I buy a sandblaster for glass? How big is it? Is it noisy? Can I use it in my home?
-How to protect and care for etched glass objects. Can I wash the glasses in my dishwasher?
-More information about patterns, such as, how does contact paper work to make pattern? What kind of glue should I use for a regular stencil? Can I buy the vinyl patterns all ready cut out?
Finally, I would love it if Eric opened a supply shop on Etsy.com to sell glass etching creams and stencils.
Thanks so much for taking the time to write this ebook and contact me, Eric. I hope you get a ton of visits to your site!
The ebook ordering information is to the far right; however, you can access a lot of the basic information on the home page, plus see some supplies.
http://www.glassetchingsecrets.com/howtosteps.html
To follow Eric on Facebook:
https://www.facebook.com/glassetchingart?ref=stream