Sabrina from HugsLove and Amy from fAveritte Creations (Look at that Cute Chevron Shirt!)
First, thank you all so much for attending the meeting! We had an intimate gathering of 4 local at Hasting's coffee shop in Murfreesboro. This was a great meeting to see familiar faces, meet new people, and discuss marketing and sales for our handmade businesses. It might seem like summer will be slow and boring now that the holiday season is long gone, but we have lots of exciting news and suggestions for your online shop! Below, you will find a highlight of what we discussed; however, please see the team discussion boards on Etsy to comment and contribute on some of the ideas: http://www.etsy.com/teams/5505/middle-tennessee-etsy-team
The team boards have a new feature to pin important threads. These threads will be highlighted in blue and remain at the top for easy reference. Titles of threads that are white will drop of the first page, unless they are active. If you can, please participate or comment on the team discussion boards once a week. It is not a requirement, but it keeps things fun and active, plus there are tons of opportunities to promote. If you want to make a treasury featuring one or more team members, please use our team tag, "teamboro", as one of your treasury tags. Also, don't forget we have a team Facebook page. Every shop can promote one new listing and one sale every week, plus as many treasuries as you can make. Additionally, we welcome comments regarding local businesses, craft fairs, and activities. Please join the Facebook fun here: Team Facebook
Dave Summers, Local Author and Amy
Now, on to the highlights of the meeting!
Me, Clare, from Mylana
1) Probably the most exciting idea of the meeting is the wish to get together a team craft show at a local venue. There will be a thread in the team discussion boards for this. The goal is to have it sometime in October or November and make it a low cost to participate. We will need to secure an indoor venue and have all vendors make a pledge to help promote. Please visit the discussion boards on Etsy to make this happen!
2) Did you know that you can add a button under your shop name on Etsy that says, "Request Custom Item"? Simply join this team and the button will appear by your name. It is an Etsy test team. Custom Prototype Team
3) Christmas in July is coming up! Amy from fAveritte Creations told us that she participated last year and was almost as busy as during the holidays. There will be a thread on the team boards to help you get started; however, watch the other forums and emails from Etsy, as they will announce what tags you should use for your sale items in advance. Christmas in July is a promotional shopping event to encourage customers to hunt for bargains during the holiday off-season.
Samples With Washi Tape
4) Do you spruce up your orders with a little something special? We discussed packaging and order presentation. All of us included a thank you note and a business card, and some of use included discount coupons, samples, or free gifts. If you include a gift, try to avoid candy, as it melts in the hot, summer weather, or things the customer might perceive as junk. The best choices are small samples or items that allow the customer to try another product you offer. Colored bakers twine, washi tape, decorative bags, stickers, and ribbons were popular choices for item packaging. Amy also added that she makes thank you tags from carnival tickets and is getting personalized shop name tags for her fabric items.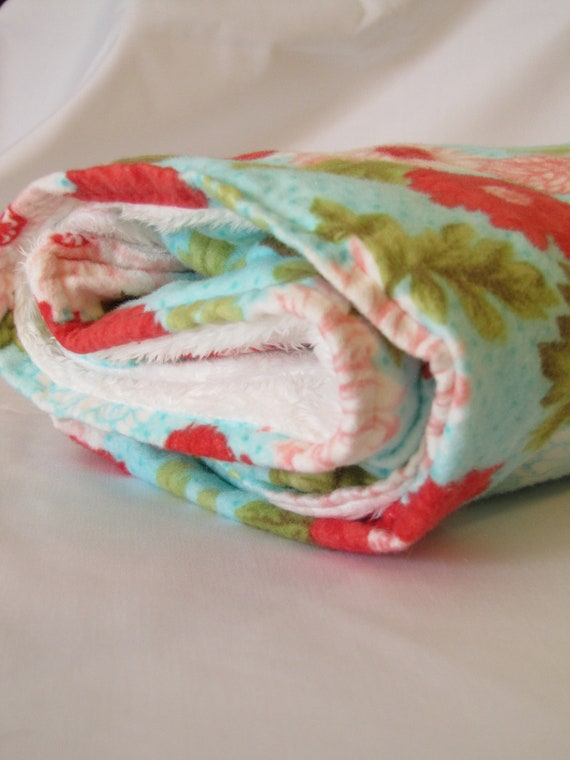 Blanket from HugsLove
5) Speaking of fabric, some of our sellers spoke about adding washing and care instructions with their orders. If you sell textile goods, you might consider informing the customers how to best care for their handmade goods. This includes both hand and machine washing instructions.
6) We were lucky to be joined by local author Dave Summers, who is considering opening an Etsy shop for his novel and short stories. Currently, he is establishing with Etsy what format of writing falls within the parameter of "handmade". So far, there has not been a definitive answer from Etsy, but I did email them directly and am awaiting a reply. We do know that "drop shipping" or 3rd party shipping is not Etsy legal. This has to do with delivery confirmation, and seller protection from direct checkout and Paypal. If Dave wants to sell his novel on Etsy, he must have a copy and ship it directly. The same applies to photographers and greeting cards. You are allowed to have a third party print your original design, but they need to ship it to you and not the customer. Otherwise, you will not be covered by seller protection in case of a charge back or non-delivery claim. This seems silly, but it is for your protection as a seller.
7) Trademark and copyright infringement are a big deal these days and if you listen to the buzz or visit the forums, every day you hear of shops being shut down or fined for selling goods with licensed characters or copies of brand name goods. Do your research before selling and protect yourself! Many fabrics, such as Disney or sports teams logos, are for personal use only, meaning you need permission from the organization to sell items made with the fabric. The same goes for paper goods. You need authorization to make Elmo or Angry Birds party invitations, if the intent is to sell them. Even paper cutting machine cartridges have restrictions on what you can and cannot do with your paper die cuts.
Here are a few tips to protect yourself. Look for any warnings or stickers about personal use on fabric before you purchase it. If you make any products with popular cartoon characters or team logos, research if you are allowed to sell it. Do not use any trademarks or brand names in your shop when listing your "inspired by" items. For example, it is okay to make a necklace that looks like a Chanel necklace and sell it, but it is NOT okay for you to use Chanel in your tags, title, or description. When in doubt, err on the side of caution and do not sell character and logo items or remove any brand name references from your listings.
Personally, I have had one listing removed from my shop Mylana. The listing was for a Poison Apple Grapefruit Soap. I did not know that one of the big bath and body companies had Poison Apple trademarked for all body and skin care. Etsy removed and deactivated my listing until I changed the name. Many of the big companies have people searching Etsy for copyright and trademark infringement. Entire shops are being shut down. Also, you could be reported by your competition, trying to get an edge. Take the steps necessary to protect yourself before a problem arises. In most cases, it is fine to make a craft project with a licensed character, but you will probably not be allowed to sell it for profit.
As a final note, the Etsy forums can be pretty vicious when dealing with questions regarding copyright infringement. I suggest asking the organization directly, for instance MTSU, if you have questions about using their logo on a product you intent to sell. Furthermore, even if it seems like everyone is doing it, you cannot sell clothing, jewelry, or paper goods with most major cartoon characters. Disney and Hello Kitty are notorious for going after violators. It could be a just a matter of time before you get caught. You can also ask in our team discussion boards for opinions on anything you think is questionable- we were all new at one time and didn't know all the rules, so we will be gentle!
Rutherford County Farmer's Market Now Open!
8) The Rutherford County farmer's market is now open every Tuesday and Friday from 7-12 in the Agricultural Center on John Rice Blvd. You can use debit, credit, cash, or EBT/SNAP/food stamps. In addition to produce and plants for your garden, they have baked goods, handmade jellies, candy, honey, soap, candles, lip balm, and more. All of the craft products are made with some type of local farm product like goat's milk or wool. They even have hydroponically grown plants. Support community farmers and artisans by shopping local!
9) Please announce any summer craft fairs or festivals that need vendors on our team discussion boards and Facebook.
10) Are you hosting a charity event or blog giveaway that needs donations? You can start a thread in the team boards, too. This is for legitimate charities or team member blogs. Please no requests for freebies and samples for personal use in the team discussion.
12) We are looking to have a meeting in Nashville. Do you know of a good place to have one? When is a good time for you. See the team boards for more information.
13) Participating in the treasury contests, promotional threads, and games is a good way to market your shop for free and help the team. It only takes a few minutes a week to post in a few threads. We have added the "Need a Heart" game and also threads for your blogs and social media.
14) The next meeting will be in July. Time and date are to be decided.
Who Loves Cats and Kittens???? Amy Averitte has 7 Kittens Needing Homes