Today we are going to hear a little bit about Middle Tennessee artisan and owner of Southpaw Art about his creations and his treade, Leatherworking. You can browse his handmade wares here:
http://www.etsy.com/shop/SouthPawArt
"Hi, I am Draper and I live in Hendersonville, Tn about 20 minutes north of Nashville,Tn I run and few online shops under the name "SouthpawArt". I make and sell handmade leather goods and some chainmaille jewelry with a rocker or biker style to them, that doesn't mean I have left anyone out that might be looking for a western or simple flower designs, etc.
I started my leather craft style with a lot of western flowers and things. I didn't have many sales, so started doing more my style and my designs with skulls and flames and found that sale picked up a little. I plan on creating more designs based around this idea in the coming year.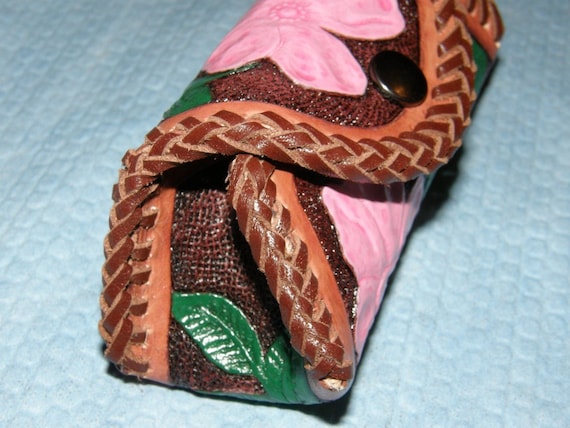 Coin Purse made by Southpaw Art
I was introduced to leather work by a neighbor who has been doing it for twenty plus years but has mostly stopped do to his age as his eyes sight is not what it used to be and arthritis is bad in his hands. So he hasn't been able to show me a lot always but he has good advice on different parts of the craft. Some of what I have learned about leather work has come from the internet and reading and studying different peoples work. There are a few websites out there that can help you along the way one of the best is leatherworker.net it has a good forum for asking questions and pointing you in the right direction.
It is always tough to give new carvers honest feedback most don't understand that it takes a lot of practice to get good. You can also take a few starter classes at Tandy Leather in Nashville and get a feel as to is this craft or art for you. But the bulk of your learning must be hands on, through doing it and making mistakes. The only way to learn the feel of the knife and the wetness of the leather is to do it and that is only one step in the process. The art or craft of leather work can take many years to learn and a life time to master. It is a craft that has many different areas of learning for different people.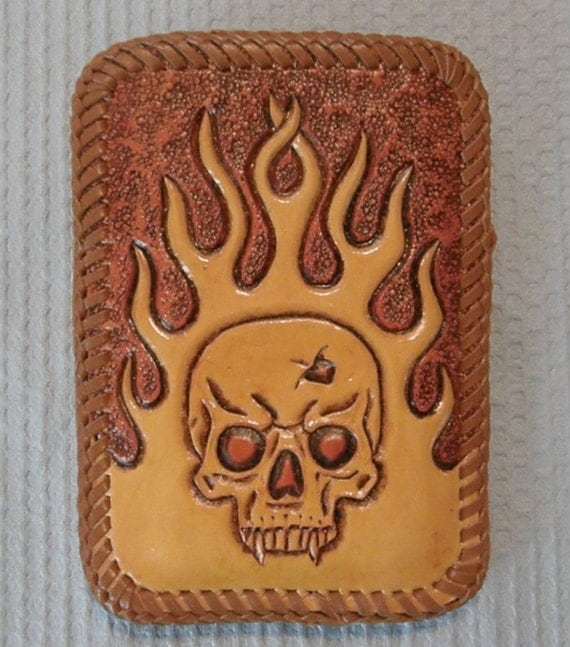 Original Flames Design by Southpaw Art
Most of my focus over the last few years has been on the art of tooling leather sometimes called carving. The first part of carving or tooling a design in to leather starts with a design or a pattern. Once you have decided on a design be it a yours or one from the past or even a craftaid. Typical you will lay a piece of tracing film over the printed outline drawing and take a marker and trace the outline. This is will be used to transfer the design to the wet leather and the base for your cutting. Once the cutting is done you will take different tools and a rawhide mallet and add patterns and textures to the leather, giving the leather a raised and lowered look. This is a very simplified version of what happens, then the work begins, changing it in to a finished product so you can see there must be a plan even before the carving begins.
Most of my designs are geared toward men but i'm always looking and open for ideas that might work for those bad girls out there. I try to keep designs in my shop for both but you can always email me and ask about having something custom made for you or a friend. I also don't mind helping out others starting in the art of leatherworking."
Thank you very much for your time, Draper! We look forward to seeing what new items you are creating. Here is a link to Tandy Leather, located in Nashville- this looks like a great local business to buy supplies from:
http://www.tandyleatherfactory.com/en-usd/home/home.aspx