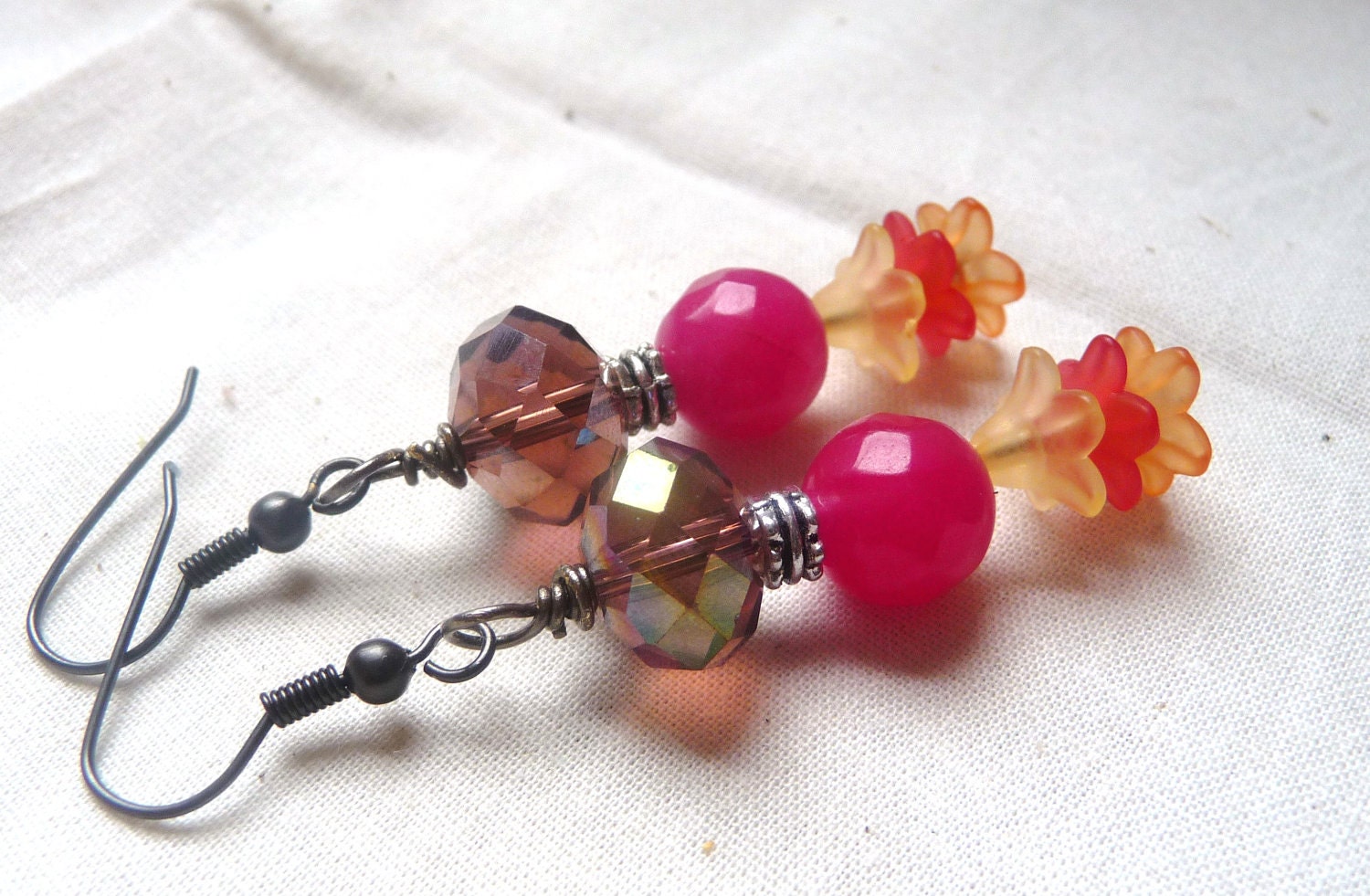 Brightly Colored Handmade Earrings
Whether you make pillows or swimsuits, magnets or mousepads, artisans of all types usually face a post-holiday slowdown. What do you do when you lose momentum and craft show season is far-off? If you sell online, how can you increase your views and sales when everything seems so dead? This article aims to provide you with a few tips to get thorough the slow season and prepare for an even bigger year in 2012!
If you are just starting your craft business, you might be asking yourself, what holiday rush? Perhaps you haven't been around long enough to establish a pattern of sesonal sales. Nevertheless, these tips can also help you in the initial phase of your craft business, as you struggle to keep motivation and invest your time in activities that will be of long-term benefit.
1) Get noticed for Valentine's Day. This holiday is about 3 weeks away, which is plenty of time to put together a quick project with a love theme, or promote an appropriate gift item of yours. Blog about things you are creating for the holiday or post pictures on facebook. If you sell on Etsy, you can make gift guides and treasuries with hearts or Valentine's colors. Put your red, pink, and heart items up as your featured creations. Act before the end of January for maximum impact, because, as you know, retailers will all ready be setting out the shamrocks and St. Patty's day items in February. Speaking of that, it wouldn't hurt to have a standout green item to promote for that holiday as well.
2) Wondering how to promote your shop and creations with Facebook and Twitter? The best thing you can do when using social media, such as Twitter, is to avoid bombarding the public with your new listings and sales. People are so conditioned to tune out advertising, that the more commercial your posts and tweets are, the more likely they are to be ignored. Try and post pictures of items you are making and your creative process. Show people how much work and pride is behind each piece. Tell an inspiring story that prompted you to make a certian thing. Get your audience excited about your work. Tweet about other artists you admire and community events.
3) How do you promote and get attention elsewhere besides using social media? What are the best ways to get noticed for free?
-start a blog
-comment on blogs
-participate in Etsy teams or forums
-donate an item to a local fundraiser
-submit your items to sites like Etsy Lush and look for handmade blogs looking for shops to feature
-be active in an internet commuity where you can put your shop name in your signature
One word of caution about promoting is to be wary about blogs seeking free products for giveaways or promotions. Check the blog for how many followers there are and how many participants they usually get for giveaways. Sometimes you will find an offer that will provide you with great exposure; othertimes you will find blogs with few followers or scammers looking for free productw. Don't be afraid to ask questions before donating an item for a giveaway!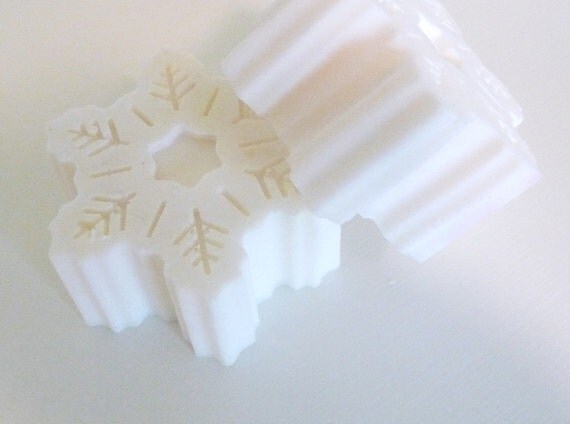 Snowflake Soap
4) Think spring (and Summer, and Fall, and Christmas...)! Prepare a list of crafts you can make to increase seasonal traffic and sales. For example on Etsy, my shop, Mylana, has a snowflake soap which made it onto 100 treasuries so far this winter. While I have only sold 2, it has brought many views into my shop. I am thinking ahead to what products I can promote for the different seasons and holidays. I try to change my item tags to get holiday traffic, 6-8 weeks before the actual holiday or season change. You will find that in the coming weeks, spring colors, flowers, and April showers will be popular trends for treasuries and for items to be featured in blogs.
5) Produce, produce, produce! Use the slow times to stock up on your best sellers and items you predict will be popular. That way, you can sell one and have another to list. Time is your most valuable asset and if you find yourself with extra minutes on hand when it is slow, you will recieve your payback during the busy season. If you find you accumulate too much inventory, you can always look for a local craft show to sign up for or a boutique that accepts consignment.
6) Tweak your packaging or presentation. This is a great time to make a new Etsy banner or build a display for local craft shows. Make gift tags and invest in getting your shipping supplies replenished. Design new labels for your products and ways to make them stand out and look professional at fairs or online.
7) It's a new year, so get your financial and legal business organized. You don't want to sign up for a craft fair and find out too late that you are required to have a certain permit or a tax form. The best place to start getting the information is from state and local websites and officials. Every community and county has different regulations about licenses and permits, and some states don't have a sales tax to deal with. It might seem intimidating, but if you seem overwhelmed, pick up the phone and call your local or state officials. Don't be afraid to ask questions; it's their job to help you!
8) Replenish your materials. Are you running low on supplies after a busy holiday? Many companies have great sales to attract consumers during the slower times of the year. So, make a list of your supplies you need for your crafts and keep it handy in case you see a sale at a fabric or craft store. Even online vendors have sales and discounts at times. This is a great time of year to look for bargains.
9) Speaking of sales, have a winter sale of your own. Create a promotional code if you sell on etsy for a percent discount, or offer free shipping for a limited time. If you have wares for sale locally, consider accepting a lower price for some things in exchange to move inventory. You might want to investigate submitting an application to Heartsy, which is like a groupon for Etsy, if you have a great amount of inventory and really need the exposure. Be prepared to offer 50% off or more to be featured on Heartsy. Myself, I prefer to make a coupon code and offer it to my facebook users or include it with orders to attract repeat customers.
10) Redo your photos. Capturing your items for online sales and editing them takes a lot of work. Enjoy the slower pace of business to dedicate time to photographing your creations. You might want to look for someone to barter with to get professional photos taken of your crafts or to hire a graphic designer to make a shop logo or banner for you.
11) Make lists of tasks you need to do and goals you want to achieve in 2021. Even if you don't get them all done, it will help you maintain focus and it feels good to cross things off. Keep lists of inspiration you have for new items or ideas you want to try out.