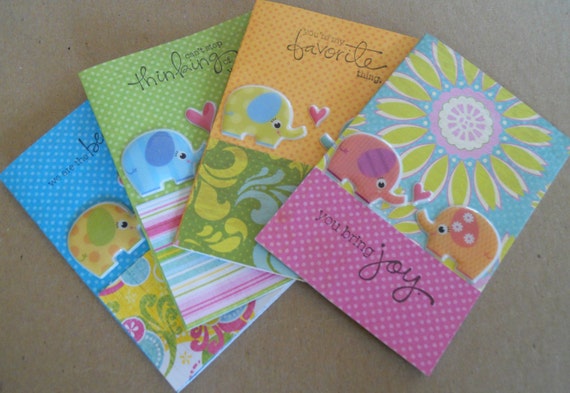 Handmade Cards by Ashley
Today we are going to hear from Ashley, the creator of these adorable handmade cards and owner of online store Iluvmarin. This online shop specializes in handmade, unique paper goods. Thank you, Ashley for taking the time to tell us about your handcrafted items and online shop! Don't forget to like her on Facebook and follow her on Twitter.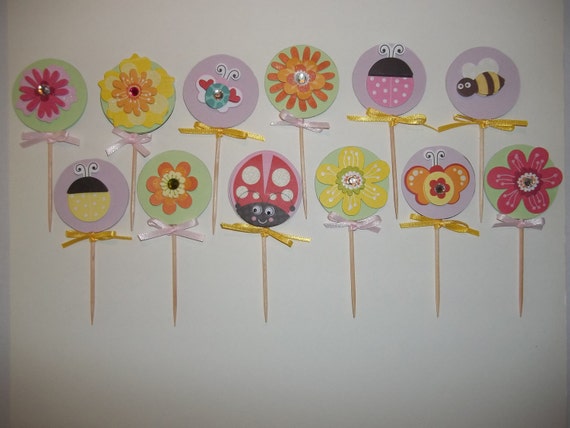 Cupcake Toppers

Hi! My name is Ashley, I am originally from a small town called Cowan, at the foot of Sewanee mountain. I moved to Nashville when I married my wonderful husband, Michael, 6 years ago. Together, we have 2 beautiful little girls...Marin who is 3 years old, & Adrianna, who is 3 months old.
I started my Etsy shop 2 years ago, when my first little girl, Marin, was just 7 months old. I named my shop, iluvmarin, because I was just bursting at the seams with love for her.
I left my corporate job to become a stay at home mommy, & in my free time, I enjoyed working on Marin's memory book. That is how I discovered scrapbooking for myself & how much enjoyment I got out of it. My crafts mainly include scrapbooking & card making. In addition, I can make adorable cupcake toppers & festive banners for parties, & I am always happy to take custom orders.
Since we live in a fairly large city, I'm able to find a wide variety of scrapbooking supplies, whether at retail stores or at little shops, to help me create truly unique, one of a kind, treasures.
Owning & operating an online business takes alot of time and effort but can be very rewarding. I have met people from all walks of life doing the same thing as me, who I normally would not have met otherwise. I have learned valuable tools, such as the importance of social networking & marketing, & although my shop is still considered pretty new, I have learned that anything is possible if you just set your mind to it & never give up.
Eventually, I would love to be able to expand my Etsy shop so that I could have my very own space with a building that houses all my creations & my shop's name on the outside. A place where customers can actually pick up a card & get a real feel for the time & love that I put into each one, a scrapbook with all its different colors & textures...I'm always told after a sale that the item purchased was even cuter in person!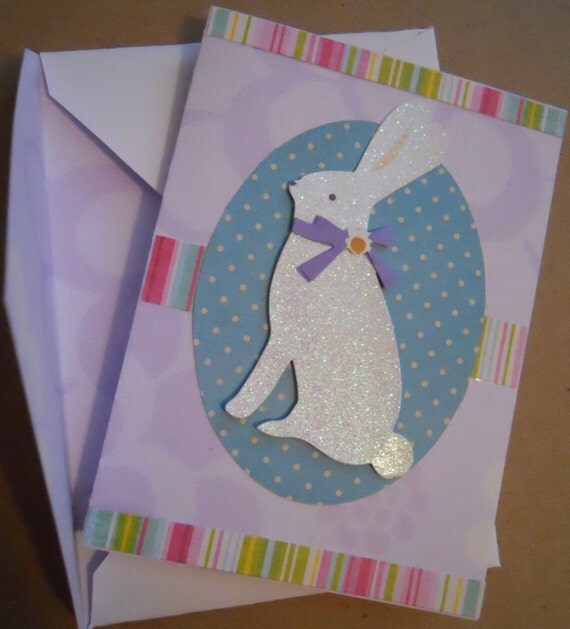 My favorite item in my shop right now is a set of 4 assorted elephant notecards with coordinating envelopes. Marin loves elephants right now, & these cards all have very sweet sentiments...who doesn't love to receive a sweet card?!
If you are interested in learning more about my shop, please visit me at:
www.etsy.com/shop/iluvmarin
and become a fan on Facebook:
www.facebook.com/iluvmarin
and don't forget to follow me on Twitter:
twitter.com/iluvmarin